Carbon Reduction and Removal
The Climate Vault approach is one of the simplest ways to achieve net zero. Rather than trying to estimate the carbon reductions created by planting trees or distributing clean cookstoves, we can measure exactly how much carbon pollution we're preventing, ton by ton.
At Climate Vault, we do this by purchasing carbon permits from cap-and-trade compliance markets and vaulting them so emitters can't use them. Because the number of permits is capped, this decreases the amount of global carbon dioxide pollution allowed by government regulators.
Our purchases are based on how much carbon you're aiming to offset. Whether you're looking to reduce your footprint or get all the way to net zero, we can help you reach your goals quickly. And because we use existing markets, the cost is transparent, and your offset is easily verified. You'll never be left wondering if your efforts created a real impact or not. In fact, your impact goes beyond carbon reductions to support carbon removal.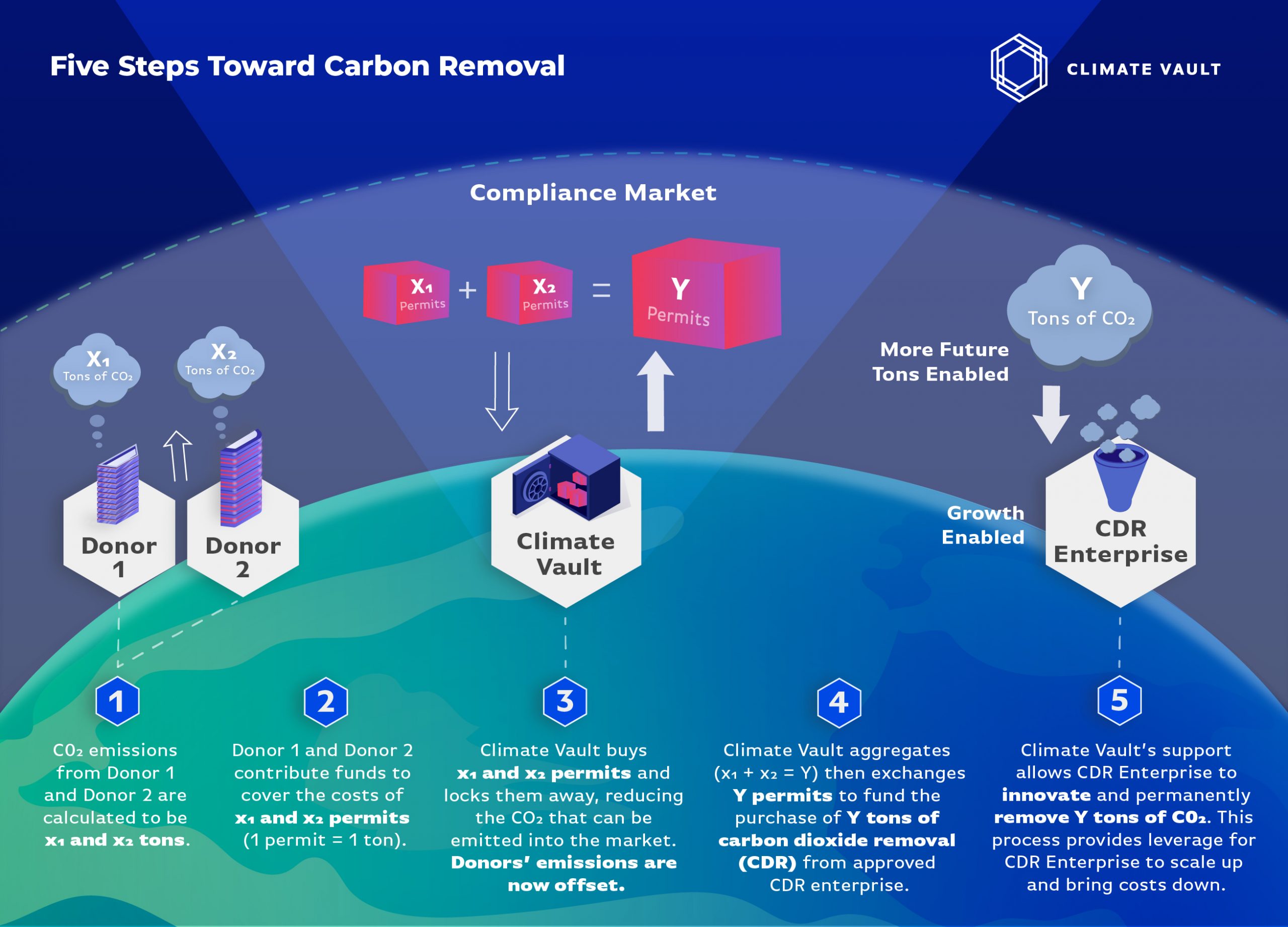 FAQ
What is Climate Vault?
Climate Vault is a registered 501(c)(3) nonprofit, tax-exempt organization. Its mission is to significantly reduce CO2 emissions, one of the leading causes of climate change, while supporting innovation that can remove CO2 already in the atmosphere.
How is Climate Vault's approach effective?
We work with supporters, organizations and individuals to help reduce and even eliminate carbon emissions footprints. We do this by using regulated cap-and-trade compliance markets to purchase and vault CO2 permits, so major emitters in those markets like utilities and power plants are prevented from using them to emit. Because the number of permits is capped, keeping them off the market decreases CO2 emissions and provides a quantifiable, verifiable offset.
But we take offsetting a step further. Climate Vault is creating the world's first large-scale ecosystem linking offsets, carbon markets and carbon dioxide removal (CDR) technologies. With the support of our Technology Experts Chamber, or Tech Chamber, chaired by former Energy Secretary Ernest Moniz, we will identify enterprises deploying effective, viable CDR innovations. We will then use the value of the permits we have vaulted to "purchase" the removal of atmospheric carbon from these breakthrough enterprises.
How does Climate Vault differ from traditional offsets?
Traditional voluntary offsets such as forestry, methane capture and clean cookstove projects, have long struggled with credibility issues stemming from inadequate oversight, lack of measurability and inconsistent 3rd-party verification.
Climate Vault is different. We only participate in established cap-and-trade markets subject to government oversight and regulation. Our market-based approach is easily measurable (1 permit = 1 metric ton), provides price transparency and is rigorously verifiable. Our contributors know that their support will have a real and measurable impact.
What is a compliance market? How does Climate Vault use them?
A compliance market (also known as a cap-and-trade market) is a market created by a government that sets an annual limit, or cap, on the amount of CO2 that can be emitted within its boundaries. Examples include the California-Quebec cap-and-trade program and the Regional Greenhouse Gas Initiative (RGGI) covering eleven northeast states. Regulated entities in such market, such as utilities and power plants, are required to purchase permits (often referred to as "allowances") for every ton of their emissions. These entities face severe financial penalties if their emissions exceed the number of permits they hold. Climate Vault purchases and "vaults" these permits, so they cannot be used by other market participants to emit.
What does a permit do?
Each permit allows its holder to emit one ton of CO2 in a government-regulated compliance market.
Why use compliance markets for offsets?
These markets drive, measurable, large-scale reductions in CO2 emissions, the key driver of climate change. They are subject to government oversight and regulation, so we can track, quantify and verify the amount and magnitude of carbon reductions and know that they're having a real and measurable impact. They create an immediate impact on carbon reduction today, not years or decades down the line.
How does Climate Vault support carbon dioxide removal technologies?
Climate Vault has assembled a Technology Experts Chamber, a team of some of the world's most respected scientists, policy experts and academics dedicated to advancing carbon removal technologies. The Tech Chamber is chaired by Ernest Moniz, Former US Secretary of Energy, and also includes:
John Deutch, Emeritus Institute Professor, MIT Dept. of Chemistry, Former Under Secretary DOE;
Margaret Leinen, Vice Chancellor for Marine Sciences, Director of Scripps Institution of Oceanography and Dean of the School of Marine Sciences, UC San Diego; and
Steve Pacala, Frederick D. Petrie Professor in Ecology & Evolutionary Biology, Princeton.
Cathy Wotecki, Distinguished Institute Professor, Biocomplexity Institute, UVA Former Under Secretary USDA;
Daniel Schrag, Sturgis Hooper Professor of Geology, Professor of Environmental Science and Engineering, Director of the Center for the Environment, Harvard University; Former Member of the White House Council of Advisors on Science and Technology
The Tech Chamber's role is to identify and assess potential innovations, review grant applications and evaluate the potential positive impact of these carbon removal technologies. Based on the Chamber's recommendation, Climate Vault will use the aggregated monetary value of its vaulted permits to purchase the removal of CO2 from the atmosphere by enterprises using these game-changing technologies. The Tech Chamber will also verify and ensure that the removal has actually happened.
Why is carbon removal so important?
Every plausible scenario and blueprint for limiting the world's temperature rise to 1.5 degrees C (the goal of the Paris Climate accord), ultimately requires not only a deep reduction in global emissions over the next thirty years but actual negative emissions – that is, removing CO2 that has already been emitted into the atmosphere.
Why can't businesses looking to offset their emissions simply go direct to a cap-and-trade market and buy and vault permits on their own?
They can. But Climate Vault makes the administration of purchases much easier. Obtaining authorization to buy, hold and sell permits is complex and time-consuming; Climate Vault has already done that work. As a third-party custodian, we ensure the auditability of vaulted permits and have hired outside auditors to verify them. We diversify the portfolio of the vaulted permits, pulling them from various regulated markets to avoid the risk of running into so-called price ceilings. And most importantly, we can use the value of offsets in our vault to support the CDR ecosystem.
Some critics have argued that cap-and-trade markets aren't truly capped, and that policy mechanisms designed to limit carbon prices allow additional permits to be released into the system, effectively negating the offset value of the permits in your vault. What do you have to say to that?
First of all, we closely monitor the carbon prices in all of the markets we operate in to ensure we're not purchasing in a market that is approaching a price level that will trigger the release of addition permits. That's the advantage of diversifying the basket of permits that we hold. More importantly, our model includes a complete ecosystem that uses the value of permits to fund the removal of CO2 with CDR technologies. The more permits we vault, the more carbon removal enterprises we'll be able to fund, which in turn will accelerate the conversion of permits to CDR before we need to worry about price ceilings. In other words, because over the longer term we will be returning permits to the market to use their value to support CDR technologies, there should be little impact on market prices. Climate Vault's Tech Chamber is beginning the process for CDR technology review starting in the second half of 2021.
How do you convert a permit into CO2 removal using CDR technologies without selling them back into the compliance market – in effect negating the offset?
We will sell the permits back into the market, but only when we're ready to use the proceeds to fund carbon removal projects equivalent to the number of permits we're selling, or more. So, in effect, the permits going back onto the market are negated by the tons of carbon we are paying to remove. Our Tech Chamber will help ensure that the funding we're providing enables CO2 removal that would not have been possible without our support.
How can Climate Vault participate in a cap-and-trade market if it doesn't operate or have emissions there?
Most cap-and-trade markets allow voluntary participation, which allows Climate Vault to purchase and "vault" permits.
Which cap-and-trade markets does Climate Vault participate in?
Climate Vault owns permits from the RGGI (Regional Greenhouse Gas Initiative) market and from the California CARB market. We are constantly evaluating additional cap-and-trade markets in order to execute our goal of significantly reducing CO2 emissions on a large scale, and we are working towards purchasing permits from additional markets.
Can permits be bought and sold at any time?
Yes.
How are permits tracked?
Each carbon market has its own system that rigorously tracks carbon permits on each account.
How do we know Climate Vault actually purchased the permits that they promised?
Climate Vault is engaging auditors to assess our permit purchases on an annual basis. We will make the audits public to ensure transparency.
Is there a risk that Climate Vault could distort cap-and-trade markets by taking too many permits out of circulation?
That would be highly unlikely. In the short term, the scale of Climate Vault's purchases will have little material impact on permit prices in the very large North American markets, which comprise some 450 million metric tons. In the longer term, we will be returning many of the vaulted permits to the market — but only to use their value to support the removal of the same amount or more of CO2 from the atmosphere using validated CDR technologies. At that point, we will be converting the offset value of vaulted permits into the physical removal of the equivalent tons of CO2.
Does Climate Vault profit from carbon removal technologies?
No, Climate Vault is not an investor in carbon removal technologies. We support enterprises that are deploying these technologies to remove the CO2and supporting the development of CDR technologies.
How does Climate Vault fund its operations?
Climate Vault is a non-profit organization. We apply a modest mark-up to our permit purchasing transactions to cover administrative and fundraising expenses.
Are contributions to Climate Vault tax deductible?
Yes, Climate Vault is a nonprofit, tax-exempt organization (tax identification number 85-4211960) under Section 501(c)(3) of the U.S. Internal Revenue Code. Donations are tax-deductible as allowed by law.